Brunello di Montalcino 2012 Il Colle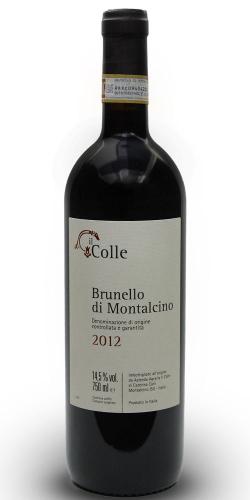 HK$550.00
In stock,
immediate delivery
Add to cart
Wine description
The Il Colle's Brunello di Montalcino is a blend of the grapes coming from the two vineyards located one in the north-east side (Loc. Il Colle) and the second one in the south-east side (Loc. Podernovo dei Campi). One of the jewels in Montalcino's original growing area, it's the result of a traditional procedure and a strict manual selection of the grapes that give to this wine a great authenticity. Annual production of about 25,000 bottles.
Tasting Notes
Ruby red in color with garnet hues. This Brunello di Montalcino has a bouquet of flowers and vivid notes of red fruit jam, perfectly combined with spicy notes of black pepper, tobacco and balsamic herbs. All this scents are found on the palate, supported by elegant tannins. A long and pleasant persistence.
Vinification
Maceration for 20/30 days on skins. First fermentation with indigenous yeasts in stainless steel, then in 50 tons Slavonian oak barrels. No temperature control.
Ageing
It rests for at least 4 years in 30 or 50 tons Slavonian oak barrels.
Join Our Mailing list
you will receive special offers and discounts